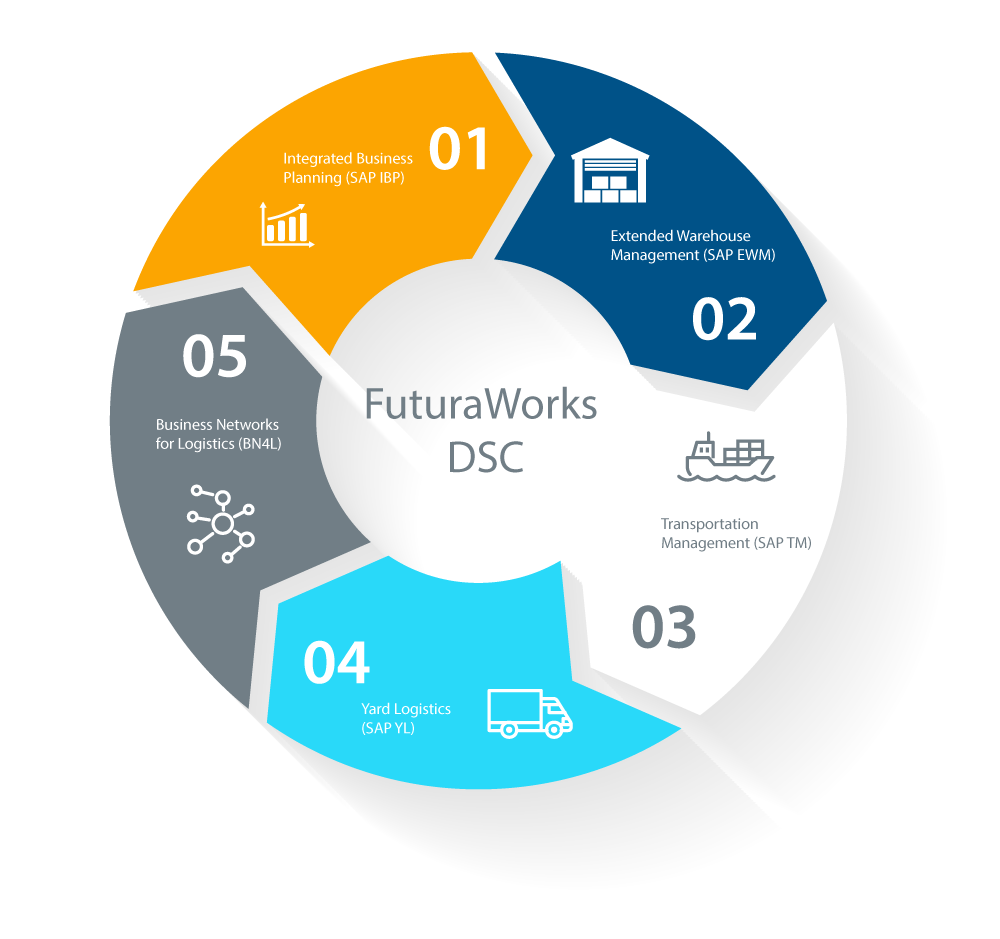 Futura's Supply Chain Mobility practice leverages over two decades of experience providing end-to-end enterprise mobility solutions to both SAP customers and their SAP integration partners.
Using the latest Enterprise Mobility technology, Futura's Design, Build, Deploy and Support model modernizes and better connects people to optimized business processes in your warehouse, yards and plant environments. As part of each customer journey, Futura delivers industry best practices for each warehousing, manufacturing, and yard environment mobility implementation.
Futura experts can assist in all aspects of your mobility hardware selection, device & technology procurement, help desk services, device lifecycle management and eLearning/Training.
Our partnerships with dozens of SAP Digital Supply Chain clients in North America make Futura the preferred Enterprise Mobility vendor for some of SAP's largest and most recognized customers across multiple industries.
Digitize Your Supply Chain With Innovations Powered By SAP
Futura's DSC practice helps clients take control of their complex supply chain processes in distribution centers, yards, and transportation networks. For nearly 20 years we've helped dozens of the world's largest brands navigate and successfully execute the implementation of SAP DSC solutions along with their corresponding supply chain mobility device networks. Contact us today to learn more about our SAP EWM, SAP YL and SAP TM capabilities.
Supply Chain Mobility
Maximize device health and increase your warehouse and yard efficiencies with Futura's mobile hardware solutions. As part of our SAP DSC practice, we help clients select, procure, and manage their entire mobile hardware asset lifecycle.
Our custom helpdesk and Mobile Device Management (MDM) programs ensure that we help each SAP customer empower their supply chain team with powerful asset information and capabilities. Whether it is 8 devices or 80 distribution centers, our team has the expertise you need for hardware deployments and upgrades without business disruption.
Supply Chain eLearning with Futura
Successful SAP solution deployments rely heavily on robust user training. With Futura's Digital Supply Chain eLearning capabilities, we establish a new standard for SAP partners.
This lower-cost yet comprehensive educational method for your supply chain team is a user-friendly platform with personalized modules that users will both embrace and retain. We ensure that your users are prepared to maximize your SAP Digital Supply Chain solution. This digital training is designed to cut the time-consuming and resource heavy training that's often been associated with large-scale SAP project deployments.
Each Supply Chain eLearning solution utilizes our client's specific transactions and screen shots by job role. These full business process workflow capabilities include the specific hardware, processes, SAP UI and any additional 3rd party software that's part of your SAP Digital Supply Chain engagement with Futura.
Contact us today to learn more about how our eLearning has been employed in multiple industries.
EXPERIENCE MATTERS
Our team of experts offer solutions to fit your needs. Services and areas of focus include:
SAP Functional and Technical Consulting
SAP Development
Business Process Optimization
Blueprinting and Implementations
Updates, Enhancements and Upgrades
Project Management and Integration
Maintenance and Support
Mobile Hardware Helpdesk Services
SAP EWM and WM Consulting
SAP YL Consulting
SAP Supply Chain Mobility solutions